"One and one equals 11, not 2" – a wise woman told me in Amsterdam after her keynote speech on businesswoman empowerment. I was enchanted! Not just by her words but by her vision, passion, and knowledge. Dr. Harbeen Arora dedicated her life to our growth – to the growth, empowerment, and betterment of all businesswomen who dear to make the best out of their lives, businesses, and society.
Thought Leader, Global Icon & Visionary for Women, Author, Businesswoman, Philanthropist, Humanitarian, Spiritual Seeker, and Compelling Speaker, this woman launched some of the most important global organizations supporting women such as ALL Ladies League, Women Economic Forum (WEF), Women's Indian Chamber of Commerce and Industry (WICCI), and SHEconomy, an e-commerce platform for b2b & b2c, offering Fashion, Sports, Beauty Wellness & Essential Services.
Within these lines, we will explore the future of business, the importance of education and growth, and the ways networking and synergy could light up the (business) world.
Dragana Djermanovic:  Dr. Harbeen, you gathered hundreds of thousands of businesswomen globally and touched so many lives with your selfless work. What is your superpower – an idea or vision that motivates you to constantly empower so many of us?
Dr. Harbeen Arora: Groomed in Indian thinking, I believe that our superpowers emanate from our spiritual core, or Soul, which is innately seeped in Love and is ONE with the Divine at all times. All that springs forth from the Soul's selfless love and vision of Oneness is pure and powerful. One such superpower on our journey of women empowerment is "Sisterhood".
My life has been transformed by 'Sisterhood." Through our various platforms for women empowerment viz. ALL Ladies League (ALL), Women Economic Forum (WEF), Women's Indian Chamber of Commerce & Industry (WICCI), and SHEconomy, we have truly created a solidarity of "sisters beyond borders." Strengthening this She-for-She Bond has been integral to our journey of collective empowerment and individual blossoming. We also have an annual festival every year on Oct 5 to celebrate and honor our empowering bond as sisters called ShaktiBandhan: World Sisterhood Day. In Indian culture, Shakti is the divine feminine: it is both the trinity and infinity. She is the source and force of Nature, the Universe, and Creation. When we hold our hands as Sisters and connect our hearts in our humanity, we collectively incarnate the Divine Feminine Energy, the Mother of ALL Superpowers. I have a very sacred feeling for Sisterhood. I literally had a vision of women encircling the earth as a womb in solidarity and safeguarding. I also feel a divine hand and energy propelling us with speed and solid thrust. I'm in absolute awe of what is unfolding for I know the divine feminine is manifesting through this bond of sisterhood, through each one of us who carries a piece and part of the greater feminine.
I think this strong aspect of honoring the Divine Feminine within and in other women is a great opportunity for All of us to remember and awaken our own power as women with greater self-belief and strength and in order to walk in our own purpose and power. When we remember our power, and when we resonate with this inner power, we reflect and radiate it, enabling others to feel it and honor it as well.
Dragana Djermanovic: Year after year your ideas are becoming more inspiring. The most recent project you launched with your team was SHEconomy e-marketplace. How can we use it and what can we expect as members?
Dr. Harbeen Arora: As we all know, empowering women economically is vital to empowering communities and societies and to make sure that women's decision making is strengthened in all sectors and spheres of society. That has been the commitment of all our platforms so far.
The purpose of starting SHEconomy was to help women economically empower themselves in a practical way through increased sales, branding, and outreach to global markets, without having to invest upfront a lot of money into advertising, promotion, etc. SHEconomy also wanted to help women in professions and services to be able to reach out to customers and users globally, and we realized that there was no such platform connecting and empowering women for this purpose at such a large scale.
SHEconomy already had the benefit of having a massive community of women worldwide through its partnership with ALL Ladies League (ALL), Women Economic Forum (WEF), Women's Indian Chamber of Commerce & Industry (WICCI), and so we could do this in a visionary way.
A defining moment in our decade long philanthropic outreach toward empowering women via the free membership of our platforms ALL, WEF, and WICCI, SHEconomy is yet another humble offering in service and support for our sisters worldwide. SHEconomy is the world's first and only COMPLETELY FREE e-commerce platform for women for both goods and services. On SHEconomy, all women worldwide can freely set up their own website/webstore to showcase their goods/products as well as business services across a variety of verticals.
I personally also want every woman to feel like a Queen of Her Inner Empire. With SHEconomy, SHE should truly feel, "I can do it!" It is my dream to see my sister's dream! And for them to know that they are not alone as they Do and Dare, and that we are ALL together as Soul Sisters in loving support and sisterhood – forming a Safety net of Solidarity, providing the healing touch for stronger Self-belief, and generating inspiration and collaboration for the SHEconomy to thrive.
Dragana Djermanovic: As a powerful businesswoman and compelling leader, you are a founder and owner of a large business group having companies and investments in health and wellness, high-tech agriculture, skill development, real estate, and construction, in renewable energy & converting waste to energy/ biogas. Your company Arganshe owns the world-famous BIOAYURVEDA brand. You successfully manage your successful business, and at the same time, you empower all of us as a passionate leader. Could you share your routines, habits, and tips on productivity, personal growth, and mindfulness?
Dr. Harbeen Arora: I live a very Ayurvedic lifestyle with an abiding awareness of the need for hygiene and harmony at all levels of the body, mind, and spirit. I'm a morning person and an early riser. In the dawn, I receive this sense of freshness, opportunity, hope, renewal, possibility: the magic of mornings. What seems stressful at the end of a day, seems so manageable in the mornings! In fact, all the books I have written have been written during the morning hours, even starting at 3 am at times. Working till noon with my office teams in the tempo of operations, I keep the second half of the day for meetings, discussions, reading, and conversations. Evenings I more meditative and with family.
I'm also very rejuvenated by leisurely strolls and walks on our farm, yoga, and self-care with skincare especially since I need to routinely test and try out my own skincare line and products.
I focus a lot on keeping up my energy and immunity, especially with our natural Ayurvedic immunity strengthening supplements by my company BIOAYURVEDA. Health is the real Wealth indeed, as we all have painfully realized in the Covid times.
The teachings of my Guru, Bhagawan Sri Sathya Sai Baba bear a powerful influence on my life and vision. The highest vision therefore for me and inspired by Indian culture and the teachings of my Guru is to Love All, Serve All: envisioning the world and the Universe as One Big Divine Family, and to realize that we're ALL ONE and on the same team; that we are ALL equal souls on a spiritual journey of awakening and we are ALL works-in-progress – and thereby retain this spirit of humility, compassion, non-judgemental vision and selfless striving to help all and serve all to the best of our ability and with an innate understanding of our oneness as sisters and brothers. Of course, I'm also a work-in-progress and constantly improving myself on this spiritual path.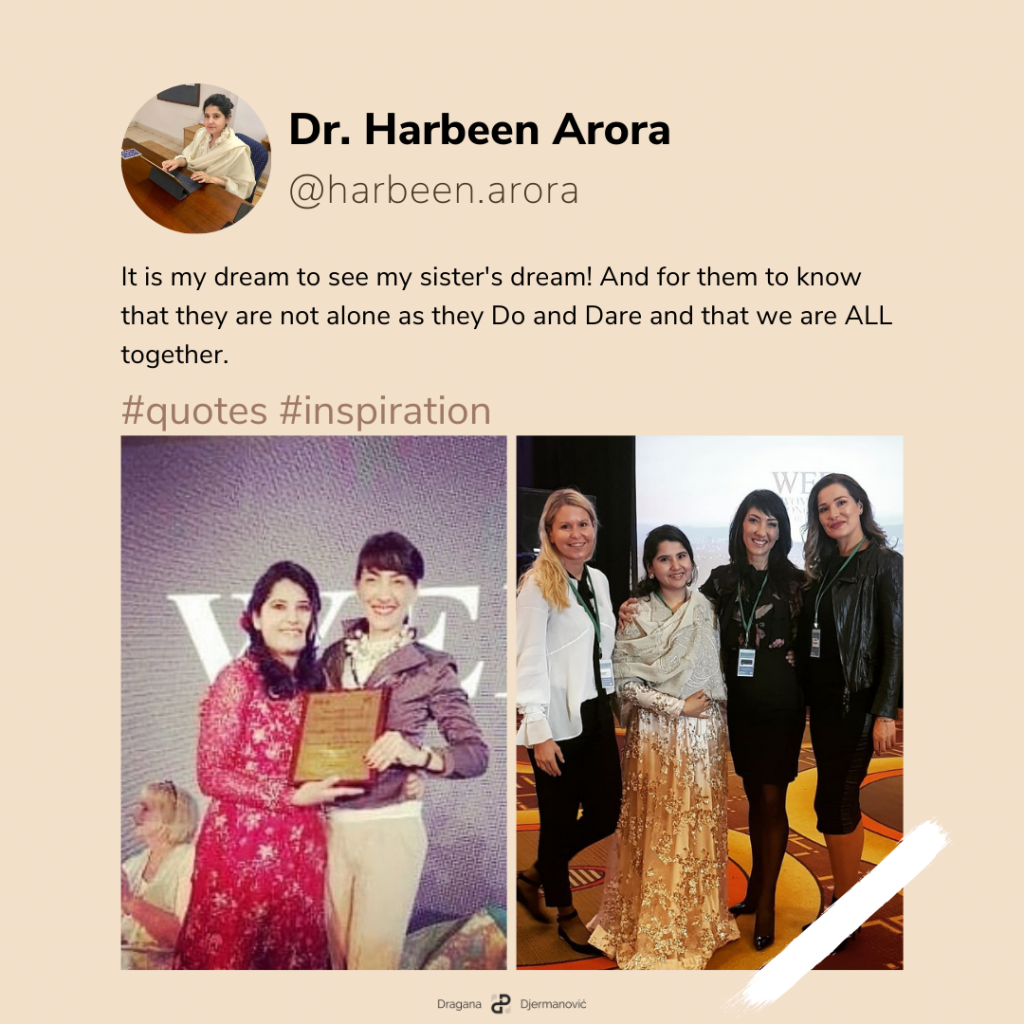 Dragana Djermanovic: How important is personal growth, balance, and harmony in our everyday life?
Dr. Harbeen Arora: I'm most passionate about working and learning. Goals and dreams may change, but what I have always enjoyed is the learning part and path. That constant opening up of the mind, broadening of horizons, change of perspectives, spiritual expansion, and blossoming of the energy – all these are very important to me and drive me as a person. The values imbibed in childhood – hard work, humility, sincerity, service; have all served me immensely in having a learning mindset.
My greatest challenge has been to understand myself and my purpose in life, and how to implement my highest vibration in my day to day work. Normally, we think that the highest spiritual goals are incompatible with the pursuit of business and real-life challenges. But my learning has been that it is possible to match both and lead a happy, fulfilling balanced and successful life.
Dragana Djermanovic: Could we expect to see you in Serbia soon?
Dr. Harbeen Arora: Sounds of Serbia have indeed been in my life since my childhood as my late uncle had family in Serbia. I always felt a soulful connection with Serbia. During my maiden visit to Belgrade, I picked up some exquisite crochet creations in Belgrade at a local artisanal market. It adorns my tea table and transports me to your traditions and culture and strangely reminds me of our deeply connected destinies as women – just like the intertwined threads of the crochet weaving a beautiful tapestry together. Destiny works in mysterious ways and I hope our paths intertwine yet again in our shared quest and collective cause to manifest the strength and sisterhood of women across cultures and continents.
***
Please visit Sheconomy website, All Ladies League, and WEF and connect with Dr. Harbeen Arora on Linkedin, Twitter, and Facebook.